The MMTW MultiCultural Exchange is based on the belief that success comes from collaboration and that the most sustainable relationships come creating a 'culture of real conversation.' This comes from confidence and ability to communicate without fear.  
MMTW Lead Coach Janie Lazar facilitates this monthly workshop  where participants with a working knowledge of the English Language boost their confidence, language competency whilst  learning a different way of thinking through the sharing experience and skills. A nominal 10.00 charge applies per person, booking essential. 
Remaining dates for 2017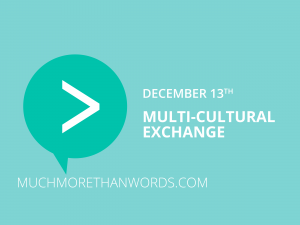 Click for further information and to book.
Looking for one to one coaching with Janie ? click here to request a call back